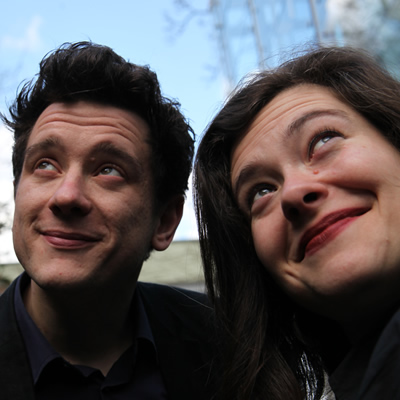 Nora Gomringer & Philipp Scholz proudly present - "Bang! Bang! Bang!" – Fatalyrical Moments. Philipp Scholz and Nora Gomringer have teamed up to fuse into a duo. "Bang! Bang! Bang!" is paying tribute to the love affair of poetry & jazz.
With Scholz' vigorous, dynamic and ever agile way of playing the drums – word, sound, jazz at its best are reverberating – an interaction is created, that does not weaken the language but enriches the music with another color. The "color Gomringer" is: good humour, extensive and deep message and fun. Fatalyrical moments guaranteed.
Stay close and listen closely, when they – yes, one could say – conjure, provide magic with a variety of German and English poems.
Nora Gomringer was born in 1980. Her background is page-related poetry and Spoken Word, her present is the vast variety of poetry and recitation. For her work, she received numerous bursaries and awards. Lately the duo received the reknown Villa Kowagama Residency bursary in Kyoto for the fall 2016.
Philipp Scholz was born in 1990. He is a jazz drummer based in Leipzig, where he's a master scholar at the Jazz department. He plays the drums in numerous bands and expands his "instrumental vocabulary" constantly. In 2015, his band Plot published their album "Tightrope".
Check out "Gomringer+Scholz" on Facebook; OR find us here:
www.nora-gomringer.de
www.philipp-scholz.info