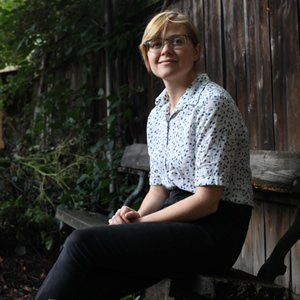 Joanna Lundberg (born 1978) is a visual artist, writer, poet and photographer based in Oslo, Norway. She has a Master of Fine Art degree (MFA)from The Trondheim Academy of Fine Art, Norway. She was born in Stockholm, Sweden, and moved to Norway in 2001, where she since has lived and worked.
Joanna Lundberg has exhibited her visual art works in different countries, such as Norway, Sweden, Finland and Scotland. She has been a student at the Nordic writing schools Skrivekunst akademiet i Bergen(the Writing Academy in Bergen, Norway) and Biskops-Arnöförfattarskola (the writing school in Biskops-Arnö, Sweden) and has attended the feminist writing course Häxskolan (The Witch School) held by the Swedish writer Johanne Lykke Holm and Danish poet Olga Ravn.
Joanna Lundberg´s work has appeared in several literary publications and magazines, such as Skrivekunstakademiets "Stemmer fraSardinfabrikken" ("Voices from the Sardine Factory", published 2015). She has attended various literature readings in Norway, Sweden and Denmark. Lundberg has written interviews about literature and art for magazines. Her poetry and prose approaches themes such as family and close family relations, reflecting onmemory, childhood, mental illness and domestic violence.