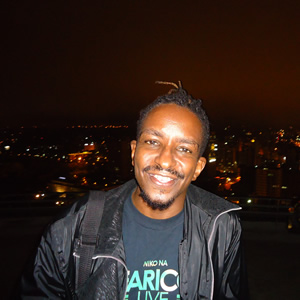 Tony Mochama (born in '75) is a journalist and popular columnist with the Standard Media Group. He is the author of ten books in different genres – from 'Nairobi – The Night Runner' to the crime noir 'Princess Adhis & the Naija Coca Brodas'; as well as a collection of poetry ('The Literary Gangsta',) a poetry text book for high schools, and the latest being a collection of travel poems titled '28 Days in Venice.'
Tony has been a participating poet or writer in residence not just at the great Kisii Kistrech Poetry festival, but also in Ourense, Montreal, London, Lisbon, Bayreuth, Saint Petersburg (Russia), Venice and Vienna, across the years.
He has won multiple literary awards, from the Burt Award for YA writing, the Leap Frog Press Prize, the Sanaa Awards as well as the continental Morland Miles Scholarship Award.