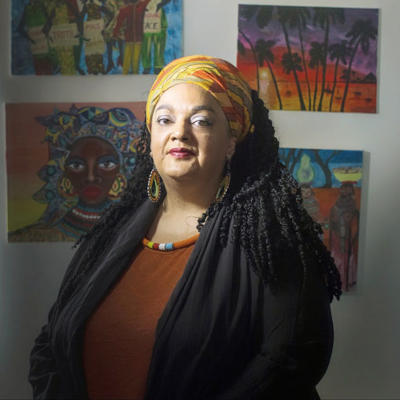 Zita Holbourne
is a multi-award-winning poet, writer, artist, vocalist, curator, human rights campaigner, community and trade union activist. She is a visual artist, curator, author, poet, writer and vocalist and a member of the UNESCO Coalition of Artists for the General History of Africa, vocal collective Nawi Collective and curator of the Roots Culture Identity art exhibition. Zita is the author of the poetry collection
Striving for Equality Freedom and Justice
. She is featured in the award-winning book:
Here We Stand, Women Changing the World
. She has contributed to over 40 books, including
New Daughters of Africa
. Former member of the Brothaman Poetry Collective and former resident poet of Nu Whirled Voyces. She has performed poetry on a broad range of stages from the UK Houses of Parliament to Glastonbury Festival and commissioned to write a poem in memory of Nelson Mandela which she read at the official UK memorial service.
She is the co-founder and National Chair of BARAC UK, National co-chair of Artists' Union England and co-chair of Public Services International Education Support and Culture Workers Network.She is also a Fellow of the Royal Society of Arts, an honorary Fellow of the University of Wales Trinity Saint David and a trustee of ACTSA. She is the winner of the Jessica Kingsley Writing Prize 2023, a Legacy Awards Lifetime Achievement award for Equality Champion and National Diversity Awards Positive Role Model for Race, listed in the top ten campaigner / politician category, Ethnicity Awards 2022, runner up in the Sheila McKechnie campaigner of the year awards 2022. She exhibits art, speaks, writes and performs on a global platform and campaigns for equality, freedom, justice and human rights through arts and activism.